Happy Valentine's Day from
Mrs. McClure's Class!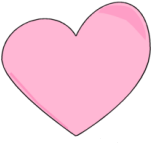 Our class celebrated by creating fractions from candy hearts! Each student grabbed a handful of candy hearts and then determined what his or her denominator would be. The students sorted their candy hearts by color and then wrote a fraction to represent each color. They also put their fractions in order from smallest to largest. This activity was so much fun and the best part was getting to eat the candy!
We ended our day by passing out Valentine cards to our friends and eating Valentine cookies sent in by Cameron! We hope that you had a wonderful Valentine's Day too!